2 In 2 Out Fiber Optic Joint Closure 24 / 48 Core PC Material 410 * 170 * 75MM
24/48 core 2 in 2 out horizontal type outdoor Fiber Optic Joint Closure
Description
Fiber Optic Joint Closure is a connection part that connects two or more optical cables together and has protective parts
Product Details
Specification:
Model name:SZ-JX002
Material:PC
Size:410*170*75MM
Color:black
weight:2.0kg
Operating temperature:-40°C-+60°
Atmospheric Pressure:70~106KPA
Withstand voltage strength:15KV(DC)
Anti-stress:>2000N
Tensile resistance:>1000N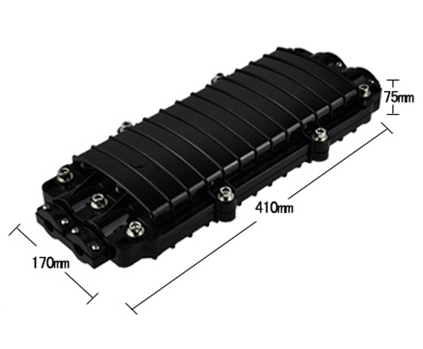 Application:
♦ Aerial
♦ Underground duct
♦ Direct burial
♦ it can protect connector

Feature:
- Sealing: excellent mechanical sealing performance.
- Easy in operation and great in practical value.
- Double suspension fixation insures cable to test requirements of cable torque, stretching, pressure, bending.